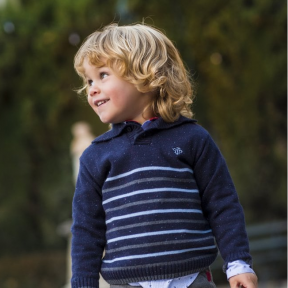 Boys Navy & Grey 3 Piece Set-5531/5030/5131
By Tutto Piccolo - [ Back to shop ]
From £65.80 - on sale, was £94.00
Lovely boys 3 piece set. Navy jumper has a fleck through it with stripe details and button up ribbed collar. This goes over a light blue long sleeved striped shirt with paper aeroplane print . Matched with soft navy cords with adjustable waist.
Trousers : 97% cotton 7 35 elastin
Shirt: 100% cotton
Jumper: 75% cotton, 20% polyamide & 5% angora wool
Wash at 30 degrees.
Any questions? Please feel free to contact us.
---