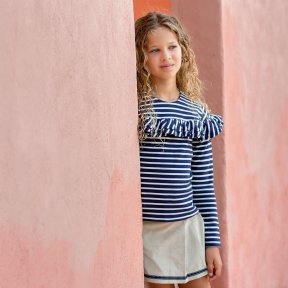 Girls Navy Stripe 3 piece skirt set-5735 / 5434
By Tutto Piccolo - [ Back to shop ]
From £48.00 - on sale, was £60.00
Micro-corduroy beige skirt with navy tights, pleats on the front, side opening with zip and customized label. Striped knit long-sleeved T-shirt, with frills. Back opening with customized buttons and Tutto Piccolo label.
Skirt - 97% cotton & 3% elastin
Top - 82% cotton & 12% polyester & 6% elastin
Care - wash at 30 degrees
Any questions? Please feel free to contact us.
---